Gray Matter to take part in Dragons Den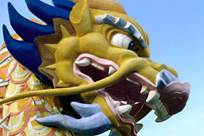 Reading. 7th May 2014: Got a great business idea, that needs some advice to get started, do you already have a business that needs some extra expertise to move to the next level or would you simply like to test an idea with some experts in business? Woodley Business Club is staging a Dragon's Den event on Tuesday 10th June at 7pm, the Oakwood Centre, Woodley in support of Woodley Carnival and is currently looking for participants to pitch their business plans.
Woodley's Dragon's Den is open to candidates from age 14 upwards and successful applicants will have the opportunity to receive business advice from five successful local entrepreneurs at the event. The most successful candidate will receive a tablet device and the opportunity for a free start-up business consultation from a dragon of their choice.
Forming the Dragon's Den is a consortium of local business owners including Mark Capehorn of Theme Group, Kimberley Gray of Gray Matter PR, Adrian Powell of ActiveFM, Cerys Vaughan of Street Feet Dance and Andrew Withers of FFS Brands/Southern Fried Chicken. Combined, the Dragon's Den will have expertise in franchising, business growth, publicity, people development, marketing and branding.
Organising the event is Tom Clark of Bbite, Chair of the Woodley Business Club. He comments: "Woodley has a thriving business community, with two key industrial estates, a busy retail centre and many local businesses working from home, there is more to Woodley business than meets the eye. It is an attractive location for companies looking to relocate and is ideally situated for access to London, Heathrow, the M4 corridor, M3 and M40."
Those looking to enter their business ideas should submit their interest on the Woodley Carnival Website: http://www.woodleycarnival.org.uk/dragons-den.html by Thursday 30th May and successful applicants will be notified by Tuesday 5th June. With a theme of Knights, Princesses and Dragons, it seems a fitting event to showcase some of what Woodley has to offer. There is just one principle difference to the real Dragon's Den – the dragons are all very friendly and keen to help others start and lead a successful business.
About Woodley Business Club
Woodley Business Club is an informal monthly meeting point for businesses and business owners in Woodley which meets on the last Tuesday of every month from 8am. http://www.bbite.co.uk/Business-Clubs.aspx
Posted on Thursday 8th May 2014